Podcast: Download
Subscribe: iTunes | Android | RSS
On today's episode, I talk with my new friend Matt McWilliams about overcoming limiting beliefs, and embracing potential to not only change yourself, but become a world-changer. In this in-depth conversation, we look at causes, effects, and behaviors associated with the issue of change. So many people struggle with this on some level, and many have no idea how significantly they are being affected by it in their day to day lives.
Matt also has a special opportunity for our Strategic Living Podcast listening community. See the details below!
A Little About Matt:
I am a published author in the book Internet Marketing From The Real Experts and have published countless articles in industry trade magazines. I was born and raised in the south and currently live in Fort Wayne, IN with my lovely wife Tara and daughter Aracelli.
My consulting company, Matt McWilliams Consulting, Inc. (that name took me forever to come up with), has clients all over the country in various industries ranging from educational courses to consumer goods and the financial industry. In my free time I enjoy spending time with my wife and daughter, running, reading, and long days of doing yard work listening to various podcasts.
Me with the two loves of my life: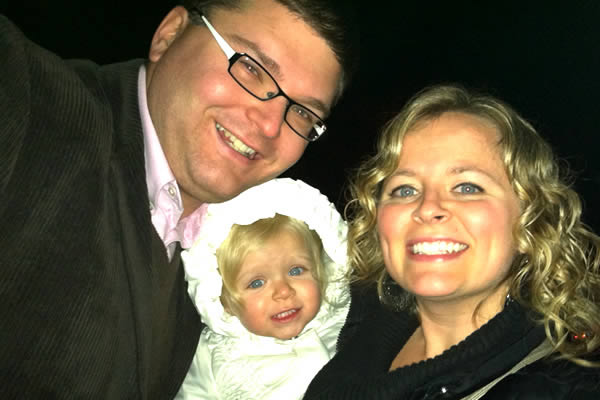 A Little Of Matt's Story As He Tells It:
I have worked in small business and online marketing for as long as I can remember. That is mostly because I could never make it in a "real job."
At the age of 23, I was fired by my dad (the day after my birthday). That was the second time I'd been fired. Thankfully, I had started my own company on the side in online marketing. It only took two years for that company to go under.
At the age of 25, I was arrested and faced up to 42 years in prison. By the age of 27, I was an executive in a thriving start-up. We won the Best in Business Award from the Nashville Business Journal that year and by year's end, we had 50+ people working for us. I was personally leading a team of 12 people…and had no clue what I was doing. I sucked as a leader and everyone knew it. I was their first employee and helped start the company above the CFO's garage. I had no business leading a team, but somehow we managed to succeed in spite of me.
I was fired from there (my third firing in case you're counting) but went on to find success at a new company.  In 2010 I was recognized as the top Affiliate Marketing Manager in the world by the Affiliate Summit Pinnacle Awards. I've won numerous other awards in that field as well.
I left that company (the first time in my life that I left a job by choice) and went back to the previous company. Yes, the one that fired me. Eight months later, the CEO left and the company laid off more than half the staff. I was one of those people. Firing number four (and it will be my last).
So there I was in November of 2011. Unemployed, brand new house, a six-month old daughter and stay-at-home mom to support. That was the moment I decided to change the world.
Just kidding. That was the moment I decided to panic. But, once I calmed down, I resolved to live a life of meaning and purpose. I came to realize that I can and should change the world. I resolved never again to be dependent on an employer for income or others for approval. And I resolved to leave a legacy.
Due to the path I've taken to this point, I have a unique viewpoint on the ever-changing world in which we live. Most importantly, I have failed at mostly everything I have tried the first time. Thankfully, I usually learned from those mistakes.
And that is good news for you. I invite you to learn with me and from me. I invite you to leave your own legacy. I invite you to change the world. Are you in?
Special Offer For Brian Holmes' Listeners From Matt:
Learn How To Destroy Your Limiting Beliefs Workbook
You can also find Matt here:
Twitter: @MattMcWilliams2
LinkedIn: Profile
Google Plus: +Matt McWilliams
Next Steps:
1. Subscribe to our weekly email update on brianholmes.com
2. Continue this conversation on Facebook! What was your favorite part of our conversation with Matt today?
Ask Me A Question
If you have a question, comment, thought or concern, you can share those with me by clicking below or leave your comments (bottom of this post) and dialogue with others as they work towards their own freedom and development.
---
Announcements
1.  Become a Coaching Client! I still have an available opening for a personal coaching client. If you would like to have me coach you in business, general life strategies, or other areas, please CONTACT ME for a free 30 minute consultation.
2. If you would like to have me speak at your church, conference, or event, please visit my speaking page at brianholmes.com/speaking
3.  Monday Mastery: Check out our series on The Four Cornerstones for Strategic Living
Subscribe to the Podcast
If you have enjoyed this podcast, please subscribe:
Subscribe to our updates at www.BrianHolmes.com
Share the Love
I'd also be grateful if you would RATE OUR PODCAST ON iTunes. That helps tremendously with making my podcast visible, so people who have never heard it can discover it. I'm grateful. Share this with your friends and associates on Facebook, Twitter, LinkedIn, Google+, etc.
Until next time, remember … You were made in His image, designed for a purpose, and are destined for greatness. The world is waiting for the REAL YOU to show up.  God Bless!